Did you know that your preschooler should be getting
90 to 120 minutes
of gross motor activity daily? Unfortunately study after study is showing that children are spending less and less time outdoors than ever before. In an effort to make a dent in that 120 minutes, we have started a new segment here at Casa de Sense of Wonder. We will be touring the parks in our area and reviewing them. Our goal is to try and explore 15 playgrounds, parks, nature trails, splash pads, and state parks and review them here for you. We will visit each park, and I will tell you what the favorite parts were, what parts we weren't so impressed with, and then I will give them a rating. Each park will have a chance to earn 4 out of 4 stars.
The first park we reviewed was the new
Play for All Abilities Park in Round
Rock. This park was amazing! The city of Round Rock recognized that with 1 in 10 people having a disability(physical or mental) there was a need to provide a place where all people could play and interact. This park is designed to be accessible to children with all manners of special needs, while remaining fun and challenging for the most active and able bodied.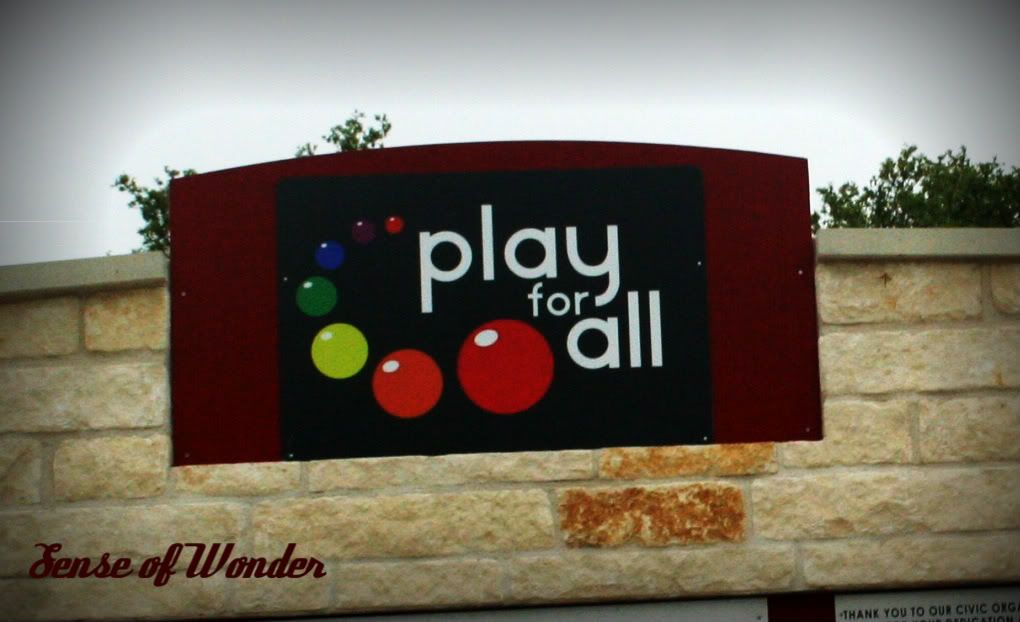 The park is divided into "pods" or sections which are intended to focus on developing certain skills. There is a Life Skills area set up to look like a city block. It has a hospital, fire station, grocery store, construction zone, school, garage, and house.
There is also a water table in the Sensory pod as well as this fun contraption below. The bed of this table is on rollers so if you sit on it you can use your arms to propel yourself across. It is perfect for children who may not be able to use their legs, but also tons of fun for my kids who dragged themselves back and forth along the rollers for the longest time.
The only Pod that wasn't a huge hit was the Rock Band Pod. A huge amphitheater like stage was set up with musical stations which could have been a lot better. Maybe I have just seen too many out door music walls in my blog explorations, but this one just didn't hold there attention. There was so much else to hold there attention that it was just fine. We give the Play for All Abilities Park 4 stars!
If you would like to find playgrounds and parks in your area, just use the simple playspace finder tool
here at KaBoom!
And stay tuned for more playground and park reviews!